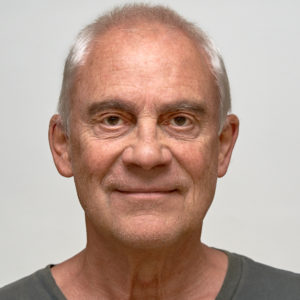 Born in Vienna in 1950, grew up in Laab im Walde (Lower Austria), since 1979 he lives in Salzburg (Austria).
He studied commercial studies in Vienna, graduated in 1974 and has since been working in private industry.
Since childhood he has been self-taught with photography and darkroom work. His training was based on his participation in a number of courses on artistic photography at the Salzburg College.
He has been working with Galerie Fotohof since 1996, the same year in which he started to exhibit his works of photographic art.
Solo-exhibitions
2022: A Portrait of Salzburg Quarters – Nonntal and Kaiviertel, Stadtgalerie Rathaus, Salzburg, Austria
2019: Goldegger Stube, Exhibition at Schloss Goldegg, Austria
2016: Bild.Raum, together with Ilse Haider and Barbara Reisinger, Stadtgalerie Lehen, Salzburg, Austria and Parallel Vienna Art Fair, Vienna Austria
2013: Salzburg in colour – Photographs, Festung Hohensalzburg, Salzburg, Austria
2011: Reinhart Mlineritsch – Photographs, Fotoforum West, Innsbruck, Austria
2010: Town.Country.River. Kunstraum Pro Arte, Hallein, Austria
2007: Cover of Darkness, Galerie Fotohof, Salzburg, Austria
2006: Photography, Kulturgut Hoeribach, Mondsee, Austria
2006: Velvet Curtain, Galerie foto-forum Bozen, Italien
2004: A photographic essay on the building history, Museum der Moderne Salzburg, Austria
2004: Hallein – Photographs, Galerie Pro Arte, Hallein, Austria
2004: Photographs by Reinhart Mlineritsch, Nevada Museum of Art, Reno, NV, USA
2004: Velvet Curtain, Galerie im Kulturamt, Salzburg, Austria
2003: Velvet Curtain, Galerie Fotohof, Salzburg, Austria
2002: Beautiful, Castle of Goldegg, Austria
2002: Photographs 1990 – 2001, Gallery Pernkopf, Berlin, Germany
2001: Photographs 1990 – 2001, Gallery Johannes Faber, Vienna, Austria
2001: Photo-Leafs, Hoeribachhof, St. Lorenz am Mondsee, Austria
2000: Like a Stranger, Fotogalerie im Schloss Retzhof, Leibnitz, Austria
2000: Parting and Starting, Goldegg Dialogs, Schloss Goldegg, Salzburg, Austria
2000: Photographs, Artport, Airport, Salzburg, Austria
1999: Salzburg Art Fair (award of the jury)
1999: Like a Stranger, Dr. Robert-Gerlich-Fotomuseum, Burghausen, Germany
1999: Portfolio Submerged, Galerie Fotohof, Salzburg, Austria
1996: Submerged, Raiffeisenkasse Seekirchen, Austria
1996: Wilderness, Schloss Leopoldskron, Salzburg, Austria
Group exhibitions
2022: Acquisitions of the Province of Salzburg 2020 – 2022, Galerie im Traklhaus, Salzburg, Austria
2021: one artist – one minute, Artists from 40 Years of FOTOHOF, Stadtgalerie Lehen, Salzburg, Austria
2021: SalzburgBilder, Galerie Fotohof, Austria
2020: Common Ground. Annual Exhibition at Salzburger Kunstverein, Austria
2020: Favorites – objects that please, kunstraum pro arte Hallein, Austria
2019: The Tip of the Iceberg, Group exhibition at the Museum der Moderne Salzburg, Austria
2018: Relocations – Houses in Transition, Group exhibition at Museum Fronfeste, Neumarkt am Wallersee
2018: Relocations – Houses in Transition, Group exhibition at the gallery Traklhaus and at the Salzburg Open-Air Museum, Austria
2017: Purity in Imperfection, Annual exhibition at Salzburger Kunstverein, Austria
2017: Furor Colligendi – For Anton Gugg, Stadtgalerie Lehen, Salzburg, Austria
2016: Subtle insights − Fortress photographs over 125 years, Group exhibition at Fortress Hohensalzburg, Salzburg, Austria
2015: Acquisitions of the Province of Salzburg 2013 – 2015, Galerie im Traklhaus, Salzburg, Austria
2013: Abundance. Annual exhibition 2013, Salzburger Kunstverein, Austria
2013: Younger than Yesterday, 30 Jahre Museum der Moderne Salzburg
2012: Opening of the new gallery, Galerie foto-forum, Bolzano, Italien
2012: On Screen, New Austrian Photography, Galerie Fotohof, Austria
2010: "plain and mountainous", Salzburg Museum, Salzburg, Austria
2009: Acquisitions of the Province of Salzburg 2007 – 2009, Galerie im Traklhaus, Salzburg, Austria
2009: "City of Salzburg", Salzburg Museum, Salzburg, Austria
2008: Lebenswelten, 4 photographic positions from Salzburg, Staedtische Galerie Traunstein, Germany
2006: Timeline – 25 Years of Fotohof Salzburg, Galerie der Stadt Wels, Austria
2006: True Emotions, Romance in contemporary phorography I, Fotoforum Braunau, Austria
2006: Fotohof 1981 – 2006, Galerie Fotohof, Salzburg, Austria
2005: The Altered Landscape, National Academy of Sciences, Washington D.C., USA
2005: "A Village in the Making" – REVISITED, Österreichisches Kulturforum, Berlin, Germany
2004: [under] construction, Galerie Marenzi, Leibnitz, Austria
2003: Acquisitions of the Province of Salzburg 2001 – 2003, Galerie im Traklhaus, Salzburg, Austria
2003: [under] construction, Museum der Moderne Salzburg Rupertinum, Austria
2003: "A Village in the Making" – REVISITED, Galerie Fotohof, Salzburg, Austria
2003: Art Scene Salzburg, Berchtoldvilla, Salzburg, Austria
2002: Galerie Con Animo, Stift Mattsee, Austria
2002: The Altered Landscape, Norsk museum for fotografi, Horten, Norway
2002: 10 Years Edition Fotohof Salzburg, Pixel.Art Gallery, Tiefenbach near Passau, Germany
2000: Interna, Galerie Fotohof, Salzburg, Austria
2000: From the collection of the Province of Salzburg, Galerie im Traklhaus, Salzburg, Austria
2000: Aktenvermerke, Gallery 5020, Salzburg, Austria
1998: Yearly exhibition, Kunstverein Salzburg, Austria
1998: Cultural Calendar of Liefering, Europark, Salzburg, Austria
1998: Acquisitions of the Province of Salzburg, Galerie im Traklhaus, Salzburg, Austria
1997: Yearly exhibition, Kunstverein Salzburg, Austria
1997: The whole Town, Architecture is everywhere, Architektenkammer Salzburg, Austria
Books
2021: SalzburgBilder, Edition Fotohof, Salzburg
2018: Stand Ort Wechsel – Haeuser im Wandel, Edition Fotohof, Salzburg, Austria
2008: Award for the book Cover of Darkness: The Most Beautiful Book of Austria 2007
2007: Cover of Darkness, Photographs, published by Edition Fotohof im Otto Mueller Verlag, Salzburg, Austria
2004: Museum der Moderne Salzburg, edition 013, Austria
2004: Reinhart Mlineritsch – Photographs, Catalogue, Nevada Museum of Art, Reno, NV, USA
2003: Velvet Curtain, Photographs, published by Edition Fotohof im Otto Mueller Verlag, Salzburg, Austria
1999: Like a Stranger, Photographs 1992 – 1998, published by Edition Fotohof im Otto Müller Verlag, Salzburg, Austria
1997: The whole Town, Architecture is everywhere, published by Anton Pustet, Salzburg, Austria
Articles and Editions
2006: Reinhart Mlineritsch – The World as Still-life, IZ-Magazine No. 4 2006, Istanbul, Turkey
2003: Recension Frankfurter Allgemeine Zeitung, December 6, 2003, Germany
2003: Vision, Magazine, September 2003, Shanghai, China
2003: unschaerfen, On the Presence of the National Socialist Past in Salzburg, Dr. Karl Renner Institut, Salzburg, Austria
2002: Recension Frankfurter Allgemeine Zeitung, Hans Jörg Rother, Berlin, April 18, 2002, Germany
2001: Calendar 10 years Edition Fotohof im Otto Mueller Verlag, Salzburg, Austria
2000: Photographs in Programs of concerts of the Salzburg Festival in cooperation with Österreichische Fotogalerie, Austria
1999: Recension Frankfurter Allgemeine Zeitung, August 21, 1999, Germany
1999: Portfolio Submerged, Edition of Galerie Fotohof, Salzburg, Austria
1998: Cultural calendar of Liefering, published by Stadtteilverein Liefering, Salzburg, Austria
1998: BFI-Journal Nr. 19, photo gallery, Salzburg, Austria
1997: CAMERA AUSTRIA Nr. 57/58, Forum, Graz, Austria
1997: BFI-Journal Nr. 18, photo gallery, Salzburg, Austria
Collections
Österreichische Fotogalerie, Austria
Museum der Moderne Salzburg Rupertinum, Austria
Collection of the Province of Salzburg, Austria
Dr. Robert-Gerlich-Museum, Burghausen, Germany
Collection of the Province of Lower Austria
Collection The Altered Landscape, Nevada Museum of Art, Reno, USA
Private collections