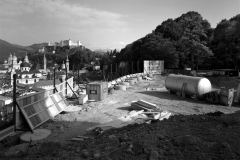 20 Photos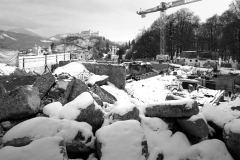 27 Photos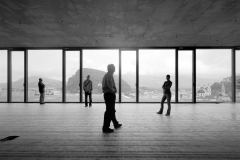 14 Photos
With the decision to establish the Museum der Moderne Salzburg at the site of the former "Café Winkler" on Moenchsberg and the subsequent jury decision on the architecture competition, the story of this important new building began in a prominent place above Salzburg's old town. The building was built between 2001 and mid-2004 in an astonishingly short construction time and without any significant delay.
The Salzburg based photographer Reinhart Mlineritsch was commissioned by the museum management to document the different stages of the construction progress, the history of the "becoming" of this building.
Mlineritsch is a photographer with an extraordinary visual language; Works by him are in the Austrian photo collection set up at the Museum der Moderne; Above all, his careful view, his sense of the atmospheric and his attention to details and cutouts brought him international recognition for his still lifes, cityscapes and photographs of vegetation and unnoticed objects and situations, which were always photographed in black and white.
The "picture essay" for the Museum der Moderne begins with the demolition of the old structure and ends immediately before the house is completed. "I am not interested in what is finished and completed," says the photographer about his work, which he saw as a "work in progress".
With a selection of 40 photographs, the Museum der Moderne now presents a concentrated view of its own emergence. In a way, Mlineritsch circles the building from the chaotic building site to the monumental complex, from the raw scaffolding to the delicate detail, from dramatically illuminated interior shots to the view of the city silhouette and the ambience. His imagery is that of classic documentary photography, as you know it from Edward Weston. The update to today's formal concept lies in Mlineritsch's poetic view of the inconspicuous trivialities of a huge construction site, in his stringent walk-on of the building at all times of the day and in the pictorial isolation that separates the building from everyday life in a sculptural manner. (Margit Zuckriegl, 2004).